Can you open and close pores?
Pores are the tiny holes in the surface of the skin. They house hair follicles and oil-producing sebaceous glands, providing a gateway for sebum oil and dead cells to reach the surface of the skin. We have pores all over our bodies, but the face is where they tend to be most prominent.
In a nutshell, no. You've probably heard through the grapevine that steam will open pores and cold water will close them again. It's a nice idea, isn't it? Opening up those pores to give everything inside a good clean, then closing them again to prevent any unwanted gunk making its way back inside. Well, a nice idea is all it is we're afraid. There is absolutely no such thing as opening or closing the pores. It's all a myth.
That doesn't mean steaming your face is a total waste of time, however. Steam and hot water do work to loosen up any dirt and excess sebum oil that like to hang out inside the pores, making it easier to remove when you wash your face.
Can you shrink your pores?
The size of your pores is mainly down to genetics, so we're sorry to tell you that the concept of pore shrinking is, in fact, another myth.
But whilst you can't physically change the size of your pores, there are a few things you can do to help them appear less noticeable. Sebum build up, dead skin cells, and leftover makeup can all make pores seem darker, and therefore more prominent. To combat this, make sure you're washing your face twice a day with a gentle cleanser and warm water, and remember to exfoliate regularly too.
Are blackheads dirt inside the pores?
It's another common misconception that blackheads are made of visible dirt that is stuck inside the pores. You might be surprised to hear that blackheads are actually just small whiteheads (the classic pimple like spots) that have been through a process called oxidation.
You know how an apple will turn dark if you cut it open and leave it for a while? It's a similar concept with your skin when oxygen mixes with sebum oil. Whiteheads are filled with the same material as blackheads, it's just their opening isn't large enough for oxidation to take place.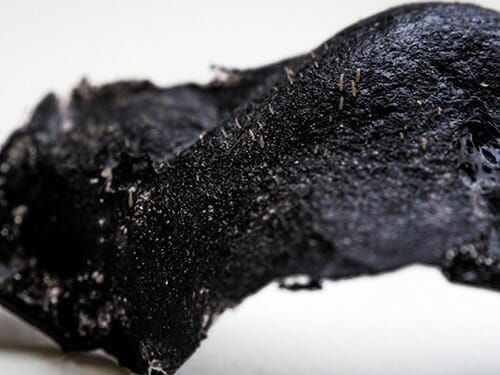 There's this idea that you can simply extract a blackhead from the skin, and that's the problem solved. We must admit, there is something grossly satisfying about ripping off a pore-strip and examining that forest of gunk. But when it comes to improving blackheads in the longer term, they really aren't much help.
The thing is, despite appearances, pore strips can only remove a superficial layer, so they don't actually deep clean your pores at all. You can expect all that gunk you've removed to return in about 24 hours, and guess who's tagging along? You guessed it, those pesky little blackheads.
It's much more effective to manage your blackheads with regular cleansing and exfoliating. If your blackheads are particularly troublesome, you can try something a little more heavy-duty, like a chemical peel, retinoids, or salicylic acid.
Do pores get larger as you age?
Actually, yes, they kind of do. As you get older, your skin will start to lose its elasticity. As well as creating wrinkles, this also causes the pores to loosen and stretch. Unfortunately, this is just a natural part of ageing, and the best course of action is to keep on top of your skincare regime. Picking at pimples and blackheads can also worsen this problem, causing pores to lose their shape – so if you're a serial pimple popper, you'd better think twice.