Plastic free favourites for £5!
Celebrate Plastic Free July with huge savings on our planet-friendly favourites. Almost everything £5 or less.
Our plastic-free bestsellers…
Inclusive skin & haircare
Everything we do is simple, honest and fair. For happy skin and hair.
Simple
Every product and ingredient serves a purpose, without dull gimmicks.
Honest
Packed with natural goodness and free from chemical nasties.
Fair
Refreshingly affordable products, with one price for men and women.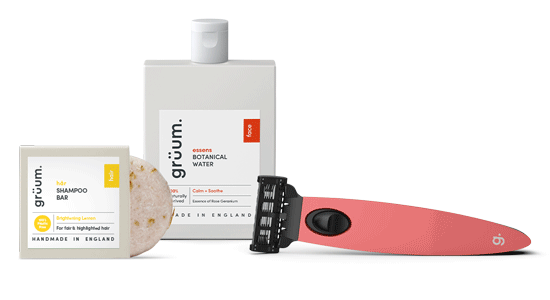 Function first
Every product we create has a purpose, and each ingredient is chosen for performance.
We pledged we'd cut out the gimmicks and lose the labels. We don't make things "for him" and "for her", we make them for everyone.
At grüum we don't do hype, just practical products that deliver real results.
Naturally better
Our products are packed with simple, natural
ingredients so they're kinder to your skin.
We only include things that do you good, and leave out the rest.
Real people.
Really good stuff.
grüum is a young British business that was
created by four friends from Manchester.
Real people with a passion for proper skincare.

You call the shots
Shop on your terms: On Demand or On Repeat. Our entire range is
available to buy as a one-time purchase or on a flexible subscription.
Everything comes in handy, letterbox friendly packaging
so it'll drop straight through your door, when you need it.