Our cult hero. Fragrance free for sensitive scalps. We've kept things as simple as possible for a stress-free wash.
What makes it special:
Coconut oil.

This rich oil is renowned for its ability to tame frizz and encourage healthy growth. It penetrates each strand with ease, while antimicrobial properties protect and soothe your scalp.

Sodium coco-sulfate.

This natural coconut extract reduces irritation while cleansing, by creating a luxurious yet gentle foam that soothes and clears your scalp.

Fragrance free.

We've gotten rid of all unnecessary ingredients, so you can wash away your worries. 

Planet friendly.

Ditch the plastic and the palm oil with this sustainable little bar.

Travel friendly.

Take your bar anywhere you like – there's no travel limit on solids!

Long lasting.

This little bar can last up to 60 washes!

Naturally gentle.

We've used just 3 simple ingredients to make this bar because life's complicated enough. Free from artificial colours, fragrances, parabens, alcohol, SLS, EDTA and petrochemicals.
Keep your hår Shampoo Bars safe and sound whilst on the go or at home with our handy låda storage tins
Good to know:
Made in the UK
Recyclable
Travel friendly
Plastic free

friendly
Vegan
No chemical nasties
I've previously purchased shampoo and conditioner bars and they're still going strong. Leave my hair feeling so much lighter and don't need to was my hair so often. They might seem expensive but they last forever. Just ordered wonki soaps can't wait to try them
6th December 2021
The shampoo bars are really really good. I originally bought to cut down on plastic, but I absolutely love them, they suit my hair really well and last for ages and ages. It might seem 'pricey' for a shampoo, but it lasts a lot longer than any liquid shampoo in a plastic bottle.
30th November 2021
I love these products! I have tried for some years to find hair products that don't react badly to the skin around my ears. I finally think I have found some. Not only are the products sensitive to my skin, but much thought has gone into the environmental credentials of the company. No plastic packaging!! The company was recommended to me by a friend and I have been singing their praises to all who will listen.
30th November 2021
What's inside?
Our products make the most of natural ingredients, including…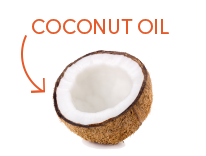 Conditioning
Leaves hair feeling silky-smooth and shiny.
1. Wet your hair
2. Swirl the shampoo bar between your hands or over your hair to create a lather.
3. Massage in to your hair.
4. Rinse and condition (if you'd like to!)
How should I store my hår Shampoo Bar
It's important that you allow the shampoo bar to dry out before storing, especially if the storage option has no drainage. Shampoo bars are water activated, so if left moist they can continue to dissolve. We recommend our hålla soap dishes which are super… Read more
Which Shampoo Bar should I use?
We have 4 different shampoo bars to choose from, so let's help you decide! Nourishing Coconut – All Hair Types A real crowd pleaser! This bar is a great all-rounder that smooths and adds shine to all hair types – Coconut oil is renowned… Read more
How do I use my hår Shampoo Bar?
Once you've wet the hair, swirl your shampoo bar across the hair to release a generous amount of suds that we're sure your hair will love! Once you have given the hair a good wash, rinse thoroughly with warm water. Then condition as normal… Read more
Sodium Coco-Sulfate, Cocos Nucifera (Coconut) Oil, Aqua.