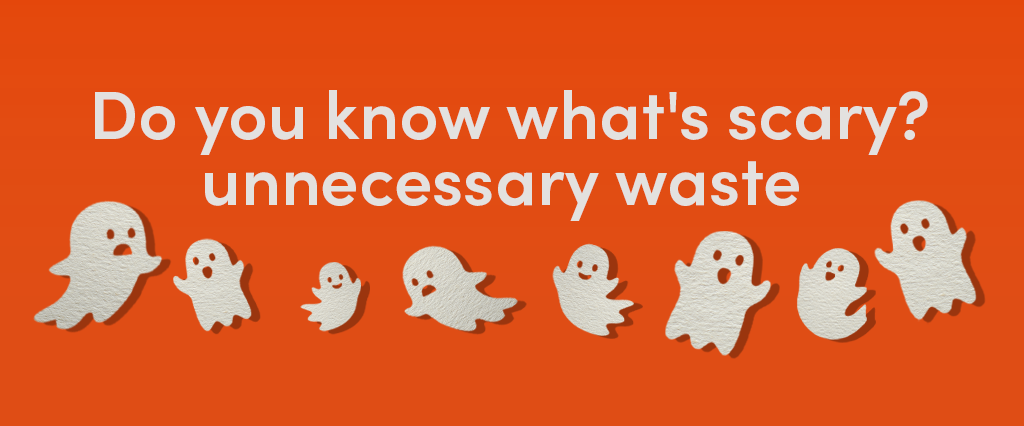 Sack off the waste this spooky season with these environmentally friendly alternatives. To celebrate the release of our Trick or Treat! Mystery Bundles, we've put together some of our favourite tricks (and treats) for making the most of this Halloween, without creating a horrific amount of waste.
Use your pumpkin wisely
Of course we all love a good Jack-O-Lantern; it's a tradition that has gone on for hundreds of years, at varying degrees of creepy (see this traditional Irish lantern carved from a turnip – blood curdling stuff).
But what is truly disturbing is everything that goes in the bin. Your pumpkin is a vat of nutrients waiting to be consumed. Here are a couple of ways to make the most of it….
Make a pumpkin soup
It's easy to want to get to the point with pumpkin carving – remove the innards and stick some fire in there. But don't forget, a pumpkin is a genuine edible food that is actually good for you. Get seasonal about your dinner and create some smooth pumpkin soup that everyone will enjoy.
Roast your pumpkin seeds
Make a tasty yet healthy snack by roasting your pumpkin seeds. Packed full of nutrients, these seeds will set you up to fight any monsters that may arrive at your door (or give you the energy to run away from them really fast if that's more your vibe).
You can roast them with spices and savoury flavours, or you can roast them plain and pop them in some flapjacks later on which leads us too…
Trick or treat!
Don't fall for the trick of buying mountains of individually wrapped sweets this Halloween. Home-make your spooky sweets to reduce waste and save a bit of money at the same time!
Here are a few cheap and simple ways to treat spooky visitors:
Everyone loves rice crispy cakes. They're sweet, crunchy, chewy – they have it all. You can go for a basic recipe or jazz them up with creepy icing decorations that mini monsters will love.
The older brother of rice crispy cakes, cornflake cakes are perfect for the chocolate loving cruncher.
Easy peasy to make, really tasty and simple to dole out to various ghouls and creatures, Flapjacks are a great Halloween treat. Slip some of your pumpkin seeds in the recipe to make them all the more on brand.
Tip: You can wrap your homemade goodies in aluminium foil if necessary, which is recyclable.
Spooky old costume swap
We've all got some skeletons in the closet. It's time to dust them off and give them a night on the town…
Of course, it would be wonderful to simply reuse your old costumes, but if you're sick of the sight of them, why not arrange a costume swap? Get some of your pals (or one pal – that's really all you need) who are also sick of their costumes to come around for a spooky clothes swap. It's a win win! You'll be haunted by compliments.
Last minute DIY Halloween costumes!
What's great about this is that they'll often be more entertaining than anything you could buy, whether you do them 'well' or not. They're also often cheaper – you can cobble together some pretty sweet outfits from charity shops and the back of the drawer.
Here are some of our favourite homemade Halloween costume ideas:
A bag of jelly beans.
This is a great costume for parents who want to reuse old play balls, or alternatively, you could use balls of wool. Cut some arm and leg holes in a clear plastic bag – if you have any old packaging from a recent large order you can reuse this! Put the multi-coloured balls inside the bag and bob's your uncle! If you want to really sell it, you can add a little jelly bean brand label.
A tea bag.
Cut some arm holes in a pillowcase and fill with dry grass, pieces of cardboard, scraps of fabric – anything that looks tea-y. Add a piece of string and a tea bag label on the end to complete this boiling hot look. The link features a little tea bag (also known as a child) but you can be a big tea bag like this lady just as easily.
Zombie old lady.
This is the perfect charity shop raid costume. Dress up as a classic old lady, complete with hair-kerchief and rollers, a gossip magazine in your purse and some tan tights for a strong Halloween look.
Grandpa costume.
In the same vein as the zombie old lady. Get yourself some uncomfortably high chequered trousers, slippers, a flat cap and a blazer and you've got yourself a costume. Bonus points if you can get hold of a pipe and drop a few philosophical one liners while staring into the distance.
Bunch of grapes.
All you need is some burgundy, pink or white (depending on the grape you want to be) painted card, cut into the oval shape of grapes. Maybe add a little white crescent for that 3D feel and a green hat accompanied by some leaves (for the vine). Perfect accessory – a bottle of wine, the colour of your grapes.
Rosie the Riveter.
YOU CAN DO IT. All you need is a piece of cardboard, some paint, a blue denim shirt, a red and white polka dot head scarf and a strong arm. Decorate the cardboard to look like the poster, then stand in front of it in your headscarf, denim shirt combo with the strong arm of being a legend.
We quite like this version which includes a holdable sign instead of cardboard, which is a bit easier to carry about.
Make your own Halloween decorations
Halloween is not a good time of year for the planet unfortunately with throw away decorations being one of the biggest culprits. Save yourself some money and protect your planet at the same time by crafting your own decorations.
Some black cardboard, some home made googly eyes and a handful of felt can go much further than you think. And we personally believe these homemade adornments look better than anything you could buy! Take a look at this post for some spooky inspiration.
After all that work, don't forget to treat yourself to a nice surprise – our Trick or Treat! Mystery Bundles await you for a limited time only…
Happy Halloween, love, grüum.
P.S. Let us know what ideas you tried! We'd love to hear from you.
Instagram | @gruum_hq
Facebook | @grüum / gruumHQ
If you'd like, you can also leave us a (hopefully not scary) review over on google reviews or Trustpilot.