Get ready to embrace a hair care revolution! At grüum, we combine sustainability with self-care to bring you a wondrous range of solid conditioner bars. They'll totally transform your hair routine, and we can't wait to show you how!
If you're not already familiar with the magical eco-friendly powers of our conditioner bars, you're certainly about to be.
They don't just lock in moisture, they also lock out waste! Say goodbye to traditional liquid conditioners and join us on a greener, more luxurious journey to nourish your locks.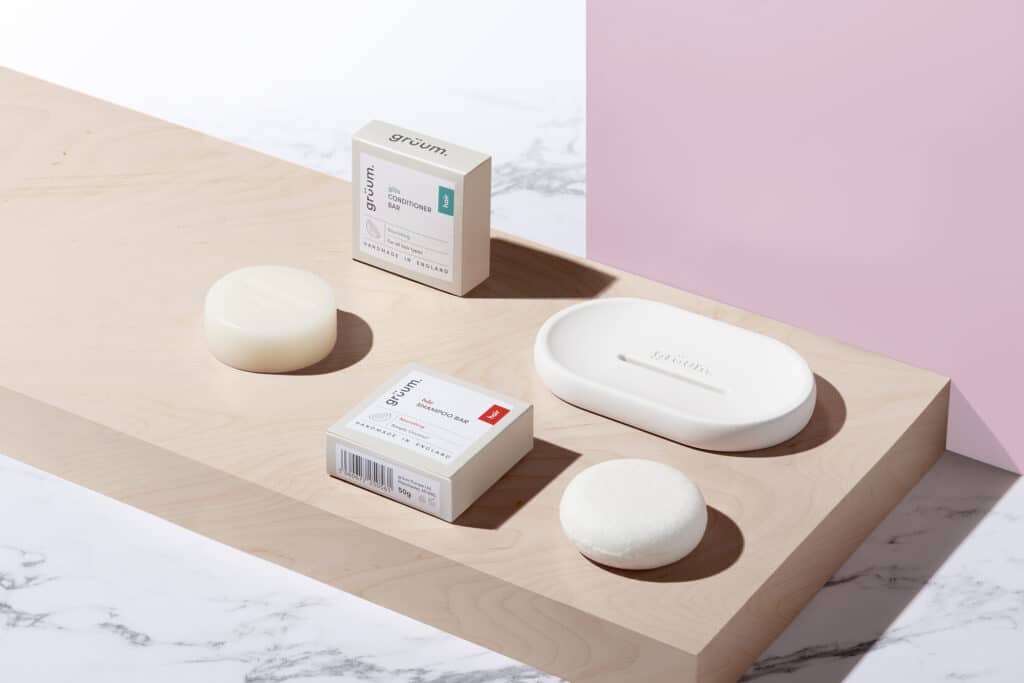 Everything you need to know about solid conditioner bars
Solid conditioner bars are a game-changer in the world of hair care routines. These compact, eco-friendly alternatives to traditional liquid conditioners are gaining popularity for their effectiveness and sustainability.
At grüum, we have a great range of solid conditioner bars for all different hair types, including frizzy hair, damaged hair, and curly hair. Each conditioner bar is also free from any chemical nasties.
The product packaging is made from recyclable materials, which makes conditioner bars the ultimate zero-waste product. Plus, you get up to 60 washes per bar, meaning it's great for your wallet too!
What's the difference between solid shampoo bars & solid conditioner bars?
We also offer a range of vegan shampoo bars. These are the perfect way to create a completely waste-free hair care routine made using natural ingredients.
With that being said, when you use a solid shampoo bar, you may feel that you don't need to use a conditioner bar, too.
Shampoo bars, especially the ones made by us, are packed with natural conditioners such as cocoa butter, almond oil, and coconut oil. With the right hair type, this can keep your hair healthy and moisturised without the need for a conditioner bar.
While that might be the case for certain hair types, dry hair and coloured hair may benefit from the additional natural oils in a conditioner bar that moisturises your hair.
Applying a conditioner bar to your strands can help lock in the extra hydration they need to look smooth and soft after every wash.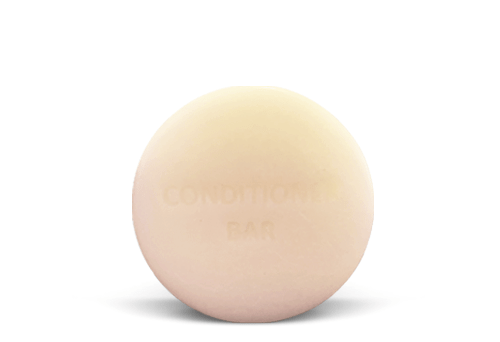 Do conditioner bars work like liquid conditioners?
No doubt about it! A conditioner bar is like a super-concentrated version of a liquid hair conditioner. Unlike traditional conditioners that are all watery, the bar form eliminates the water content.
But different forms mean different application techniques.
Even though liquid and bar conditioners require different methods, they both work their magic in the same way. The goal is to lock in as much moisture as possible. A conditioner bar is the absolute, plastic-free champion of achieving just that.
How to use a conditioner bar
Like we mentioned earlier, using a conditioner bar requires a slightly different technique compared to a liquid conditioner. 
So, let's walk you through the steps of conditioning your hair with our amazing solid conditioners so you can go ahead and give your hair the TLC it deserves!
How to use our solid conditioner bars
Method 1
Method 2
Step 1) rub the conditioner bar between your wet hands.
Step 1) rub the conditioner bar directly along the lengths of your hair, from roots to end.
Step 2) work product through hair from root to end.
Step 2) slide your fingers or a wide tooth comb through the hair for even distribution of product.
Step 3) leave to sit on your hair for two minutes.
Step 3) leave to sit on your hair for two minutes.
Step 4) rinse out thoroughly with warm water.
Step 4) rinse out thoroughly with warm water.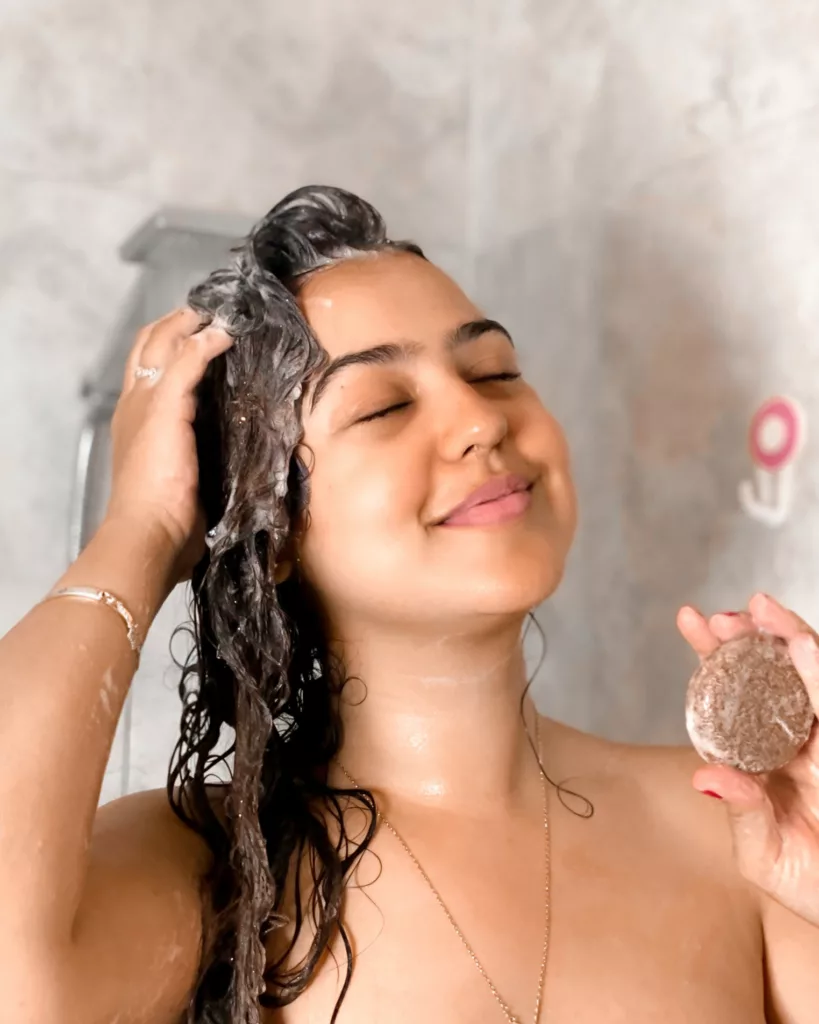 Step 1) Start with wet hair
This is a fairly standard step for conditioning your hair. Your hair should already be wet from where you washed it with shampoo.
If you used a solid shampoo, it never hurts to give it one last rinse to prepare for your favourite conditioner bar.
Step 2) Prepare your conditioner bar
With your hair adequately wet, it's time to prepare your conditioner bar. This is a different process from a using shampoo bar.
Take your conditioner bar and rub it in between your wet hands, creating a small amount of lather (these bars don't suds up as much as our shampoo bars).
OR
You can take the conditioner bar directly to your hair. Rub the bar on your hair from roots to ends, making sure to get all the hair.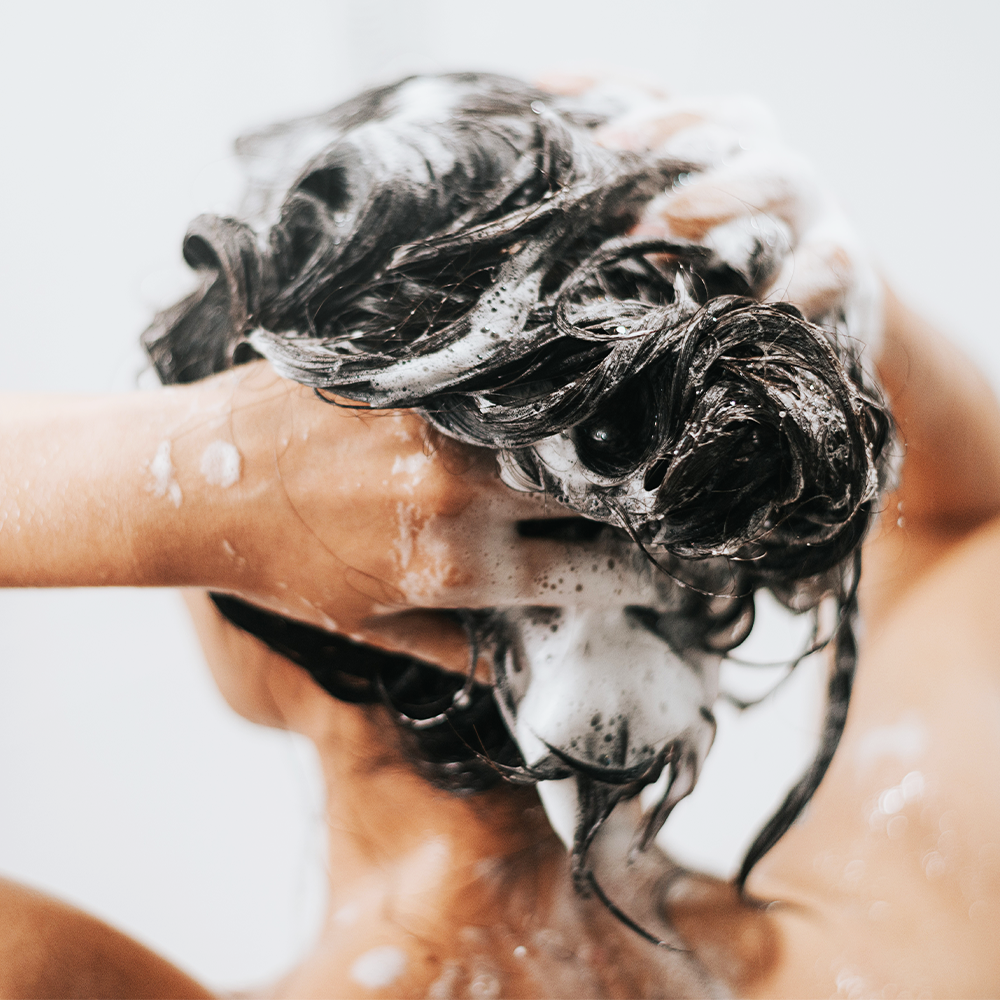 Step 3) Work the product through your hair
Once you've applied the conditioner, you'll want to work it through your hair to make sure it's distributed.
Run your fingers through your hair, being very gentle, so you don't pull or break your hair. Alternatively, take our hårkam Bamboo Comb and brush the product through your hair.
Step 4) Leave to absorb for 2 mins
Once the conditioner has been thoroughly worked into your hair, just let it be.
Allowing the conditioner to absorb into your hair helps get the most benefit out of it. The natural oils of the conditioner will help to nourish and moisturise your hair beautifully.
Step 5) Rinse thoroughly
Once the conditioner has worked its magic (after about 2 minutes), it's time to rinse. As with shampoo bars, you need to make sure you're rinsing your hair thoroughly to get the best results. Warm water works best with conditioners.
You can use your fingers as a comb to help encourage the product out of your hair. You can also use the hårkam Bamboo Comb again to de-tangle your hair and gently remove any excess product.
Choosing the right conditioner bar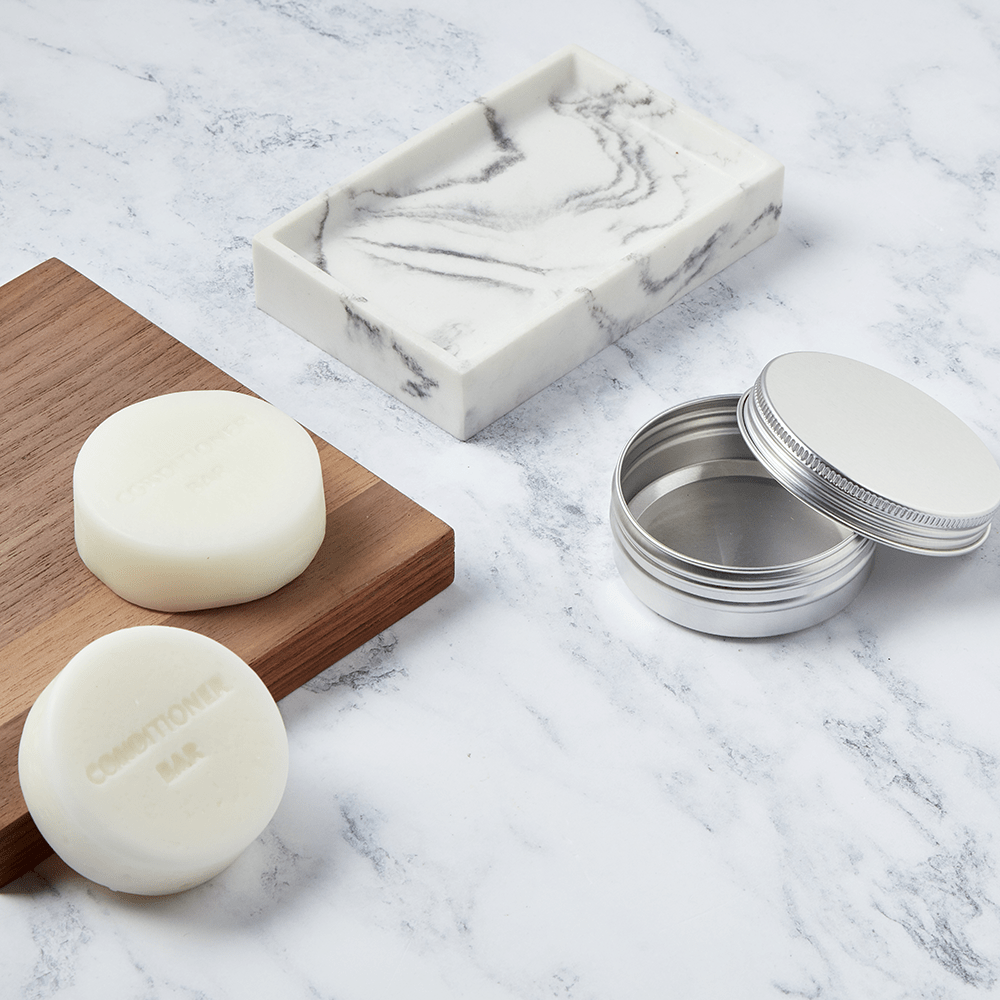 As with shampoo bars and liquid conditioners, it's important to get the right conditioner bar for your hair type.
We have a wide variety of bars that complement our shampoo bars to create the perfect hair care routine.
Our types of conditioner bars
| | |
| --- | --- |
| Our conditioner bars | Perfect for hair types… |
| glôs Conditioner Bar – Nourishing | All hair types |
| glôs Conditioner Bar – Anti-Dandruff | Anti-dandruff |
| glôs Conditioner Bar – Volumising | Oily & fine |
| glôs Conditioner Bar – Revitalising | Curly & damaged |
| glôs Conditioner Bar – Shine Boost | Dark & dyed |
| glôs Conditioner Bar – Brightening | Blonde & highlighted |
Our bestselling glôs Conditioner Bar – Nourishing uses coconut oil to hydrate and protect all hair types – and works even better when used alongside our hår Shampoo Bar – Nourishing.
If you struggle with a dry and flaky scalp, our glôs Conditioner Bar – Anti-Dandruff can help soothe and nourish your locks.
If you want to cut down on styling products, our glôs Conditioner Bar – Volumising can bring body and shape to your hair.
For those of you with curly hair, our glôs Conditioner Bar – Revitalising is ideal for bringing your barnet back to life and under control.
Storing your conditioner bar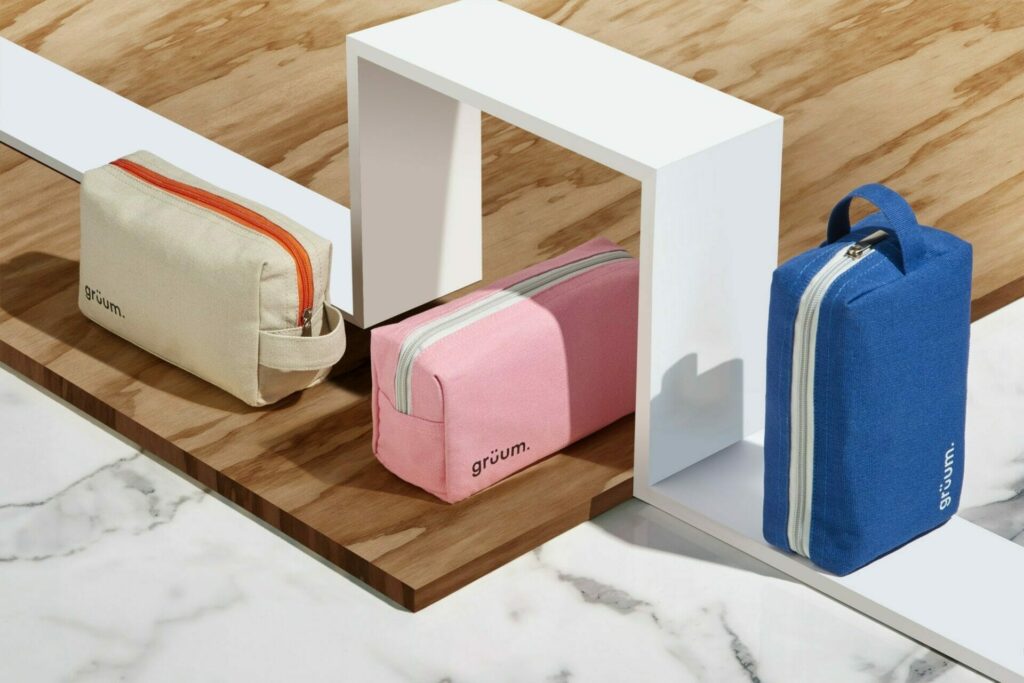 Because our conditioner bars come in plastic free packaging, you have to be careful how you store them. Allowing your bar to stay damp between washes will result in it becoming a mushy mess on your shelf.
The most important thing is to keep the bar away from places where it can be splashed or dripped on. The most convenient way to do this is to place your bar on a conditioner bar holder away from your shower.
If your bathroom is particularly busy and hectic, our tenn Conditioner Carry Tin is an ideal solution. The lidded tin helps protect your bar from water no matter where you store it.
Join us on a journey of sustainable hair care with our conditioner bars
Conditioner bars are the perfect way to create a plastic and cruelty-free hair routine.
With our range of solid conditioner products, from nourishing all hair types to revitalising curly and damaged hair, you'll find the best shampoo bar no matter what your hair needs.
Shop our range today to be part of the eco-conscious beauty revolution with us.
Love, grüum.
Instagram | @gruum_hq
Facebook | @gruumHQ
---
FAQs
How often should you use a conditioner bar? +
You can use a conditioner bar as often as you would a liquid conditioner. Because there are no chemical nasties in our products, there's no limit to how often you can use them. You can use the condition of your hair as a guide to how often works best for your hair. If it's feeling dry or becoming tangled, you can use the conditioner more often or even as a more intense mask once a week.
Our bars have up to 60 washes of life in them, so you get more out of each bar than a regular bottle.
Are solid conditioner bars expensive? +
We pride ourselves on creating products that are kind to you, your pocket, and the planet. This means that all our hair care products are affordably priced, and our solid hair care products last much longer than traditional liquid products.
Are conditioner bars better than liquid conditioners? +
There are a number of benefits to using conditioner bars over liquid conditioners. The ones that impress us most are the sustainability and versatility of these products. Not only are you getting healthy, nourished hair from these products, but you're also helping reduce the amount of plastic in the world – which is a win-win situation for us (and you).
Can you use a conditioner bar as a hair mask? +
Absolutely. Doubling up your conditioner bar as a weekly hair mask is the perfect way to reduce the amount of products you use and give your hair an extra boost. Simply apply a tad more conditioner than you would for a normal wash and leave it on for 30 minutes to really nourish your hair.
*Please note: not all our products are entirely vegan – please check individual product pages for details.