The beauty and skincare industry is dominated by big brands selling big products left, right and centre.
While they're all claiming to work wonders for your hair like no other, there's one thing they often do have in common: unsustainable packaging and ingredients.
All you need to do is drop into your local pharmacy or supermarket, and you'll see plenty of non-recyclable packaging.
And if you dig a little deeper (i.e. look at the ingredients label), you'll even see the stuff that's going into these hair care products is full of no-good chemicals – for you and the planet.
Now more than ever, we should be doing all we can to wipe out the use of unsustainable materials and instead focus on creating eco-friendly hair care products.
Which is where we step in.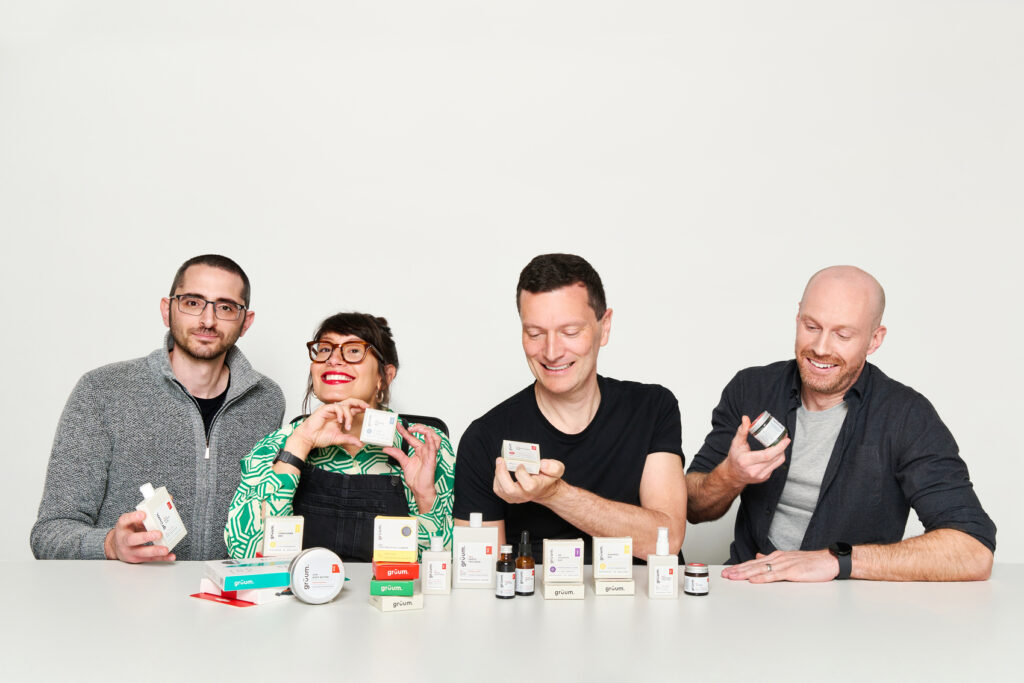 Our commitment to planet Earth & to you
Although we're only a start-up of average Joe's, we've got pretty loud voices. We're passionate about doing our bit for the planet and helping others to make sustainable choices, too, which is why we started grüum.
We're built on the foundations of eco-friendly hair care and body care and use this as our driving motivation behind all that we do.
Handmade with love using natural ingredients
Everything you see across our hair care range is packed full of natural goodness that your hair will love, and the environment will love even more. There's absolutely no nasty chemicals in sight.
From natural botanical extracts to oils and butters – like coconut oil and shea butter – you can trust us to put the well-being of your hair and scalp first.
Zero waste packaging
And that's not all. We take it a step further by packaging all of our solid shampoo and conditioner bars in fully recyclable cardboard boxes.
So that's zero nasties, zero plastic and a whole lot of natural goodness – all delivered in a way that works in harmony with the planet.
How to switch to eco-friendly hair care
Purchasing from us is just the start. After that, it's all about how you use your hair care products and what you do beyond.
You should create an entire hair care routine that's sustainable, from the shampoo and conditioner to the comb and brush you use.
To help you get started on your new and improved routine, we've pulled together a few of our top tips for establishing an eco-friendly hair care routine.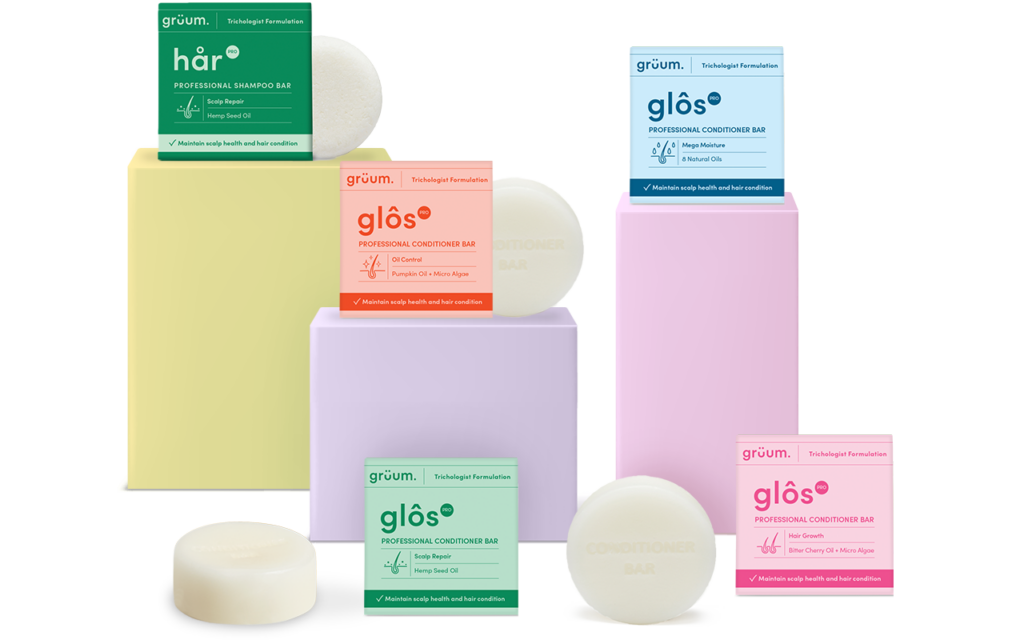 1. Switching to shampoo and conditioner bars
If there's one way to put an end to single-use plastics in your beauty routine, it's trading in your liquid shampoo and conditioner for solid bars.
Our solid shampoo and conditioner bars are packaged up in handy, travel and storage-friendly cardboard boxes. These boxes are widely accepted by most kerbside recycling schemes across the UK, so once you're done, they can be recycled without a second thought on it.
But aside from the packets, our solid shampoo and conditioner bars last a whole lot longer than liquid bottles – up to a whopping 60 washes, in fact.
Your hair care products will last longer, you'll be reducing your consumption (and waste) week in, week out, and you'll be saving money.
2. Use less water during showers
Putting the products (and not-so-shameless self-promo) aside, it's also important to identify what other parts of your hair care routine might not be quite so sustainable.
We're all guilty of basking in the warmth of the shower for a little too long after a long day. And while it's certainly fine from time to time, you don't need to spend hours under the water.
Decreasing your water usage will help to save energy and resources when it comes to heating the water, pumping it out and treating wastewater, all of which can be incredibly taxing on the environment.
Not only that, but you'll be doing your bank account a favour as well.
Quicker showers = less water consumption = a happier planet & a happier wallet.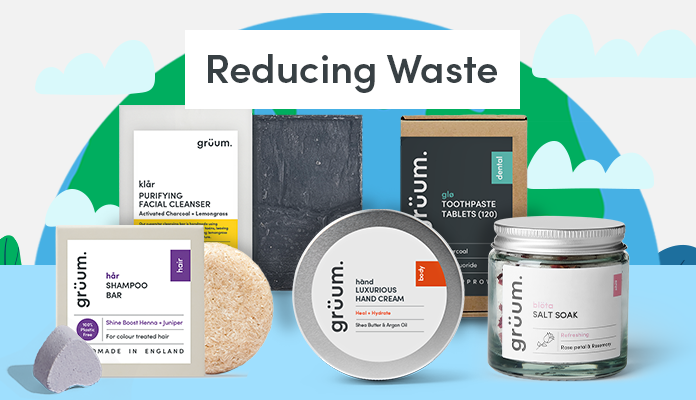 3. Use more natural ingredients in your hair care
Your hair works hard for you all day every day, so it's only right you give back and show it some love.
While you might be familiar with more common natural ingredients – like olive oil, coconut oil and shea butter – there are a ton more natural ingredients you can use to nourish your scalp and hair.
Our eco-friendly shampoos, conditioners and hair oil are all formulated using hair-loving, naturally derived ingredients that work with your natural hair to give you the best possible results.
And because we know every head of hair is different, our products are specially created to target a range of hair types and concerns.
Take our hår Shampoo Bar – Revitalising, for example. This little bar of joy is perfect for taming unruly curls. Similarly, our hår Shampoo Bar – Anti-Dandruff is specifically designed for dandruff-prone and sensitive scalps.
Plus, using hair care full of natural ingredients means less chemicals going down the plug hole, and that's better all around for the planet.
4. Use eco-friendly styling products, tools & accessories
So we've covered what you should be putting in your hair, but what about the tools you use for styling?
Eco-friendly hair styling products and tools are a great way to commit to sustainable hair care practices. Instead of using plastic hair brushes and combs, opt for wooden alternatives.
Our lük Comb is crafted using natural bamboo for a perfectly planet-friendly grooming companion. This bamboo comb is especially good for use on frizzy hair types thanks to the natural negative charge of the bamboo (in simple terms, it helps to reduce static in your hair), helping you keep your hair looking smooth and shiny.
As well as styling tools, you can also look at the storage accessories you use, like wash bags. Most wash bags in supermarkets or pharmacies are made using fairly cheap plastic materials, which is good for no one.
Switch to a wash bag made from recycled materials like our reise 3.0 – Washbag.
It's made using recycled ocean-bound plastic (and comes in lots of colours to choose from), so you can keep your bathroom looking stylish and sustainable.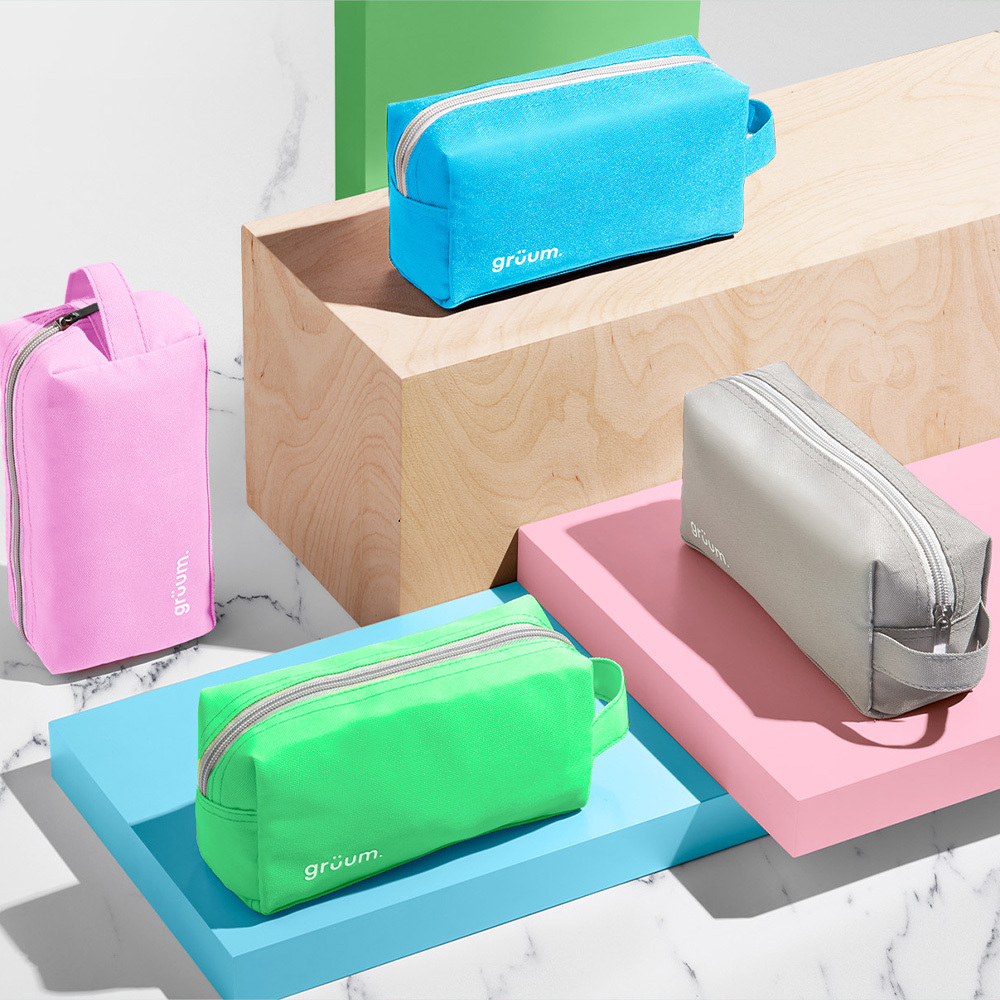 5. Aim to use cruelty-free & vegan hair products where possible
Aiming to use cruelty-free and vegan hair care products – like us, of course! – is a great way to show your support for animal-friendly products and switch away from testing on animals.
We have a great range of vegan hair care products*, and everything is entirely cruelty-free.
We firmly believe that animals shouldn't have to suffer for the sake of beauty, and we make sure our products reflect this belief, too.
We've done our bit; now it's your turn – start your eco-friendly hair care with us
At grüum, we're committed to providing you with eco-friendly hair care products that don't compromise on results.
From the handy-dandy cardboard boxes, our products are packaged into the cruelty-free, vegan and natural ingredients incorporated in our formulas; every part of our process is crafted to work in harmony with nature – and it always will be.
If you'd like to read more about our commitment to sustainability, take a minute to check out the full story of grüum.
Take the first step towards a more sustainable way of living with our eco-friendly hair care range today.
Love, grüum.
Instagram | @gruum_hq
Facebook | @gruumHQ
---
FAQs
What is sustainable hair care? +
Sustainable hair care is all about reducing your environmental impact when it comes to hair care. This means using fewer chemicals, styling tools and products with sustainable packaging, switching to vegan and cruelty-free brands (like us), as well as using less water when washing your hair.
How do I make a natural hair care routine? +
Start by switching your bog-standard shampoo and conditioner for eco-friendly, natural alternatives. Our solid shampoo and conditioner bars are the perfect choice. Also, think about switching up your styling tools – ditch the plastic hairbrushes and opt for wooden combs, like our lük Comb.
How do you keep your natural hair healthy? +
It's simple, really: don't use any nasties on your hair. Harsh chemicals, like silicones and parabens, can strip the natural oils from your hair and damage it over time, resulting in tired, dry hair. Instead, use gentle products containing natural oils, butters and plant extracts to keep it looking and feeling healthy. Regularly comb your hair to keep it tangle-free and reduce any breakage.
What is considered vegan shampoo? +
Vegan shampoo doesn't contain any animal-derived ingredients and instead uses plant derivatives. Common animal ingredients include beeswax, lanolin and honey.

Please refer to individual product pages for more info, or shop our vegan hair care range here.
Can you use shampoo and conditioner bars on any hair type? +
You certainly can. We have a range of solid shampoos and conditioners specially formulated to target certain hair concerns and hair types. From oily hair to normal hair and everything head of hair in between, we have something suited to everyone. We even have products that work for dyed and bleached hair, so you can keep your colour looking vibrant for longer.
*Please note: not all our products are entirely vegan – please check individual product pages for details.